News Article
Preview: Blue Remembered Hills
10 Jul 22
---
What was the appeal of this play for you as a director?
I've loved this play since I was in sixth form, when it was on our A-Level Drama syllabus. It's always fascinated me how it was written specifically for adults to play children, and I wanted to be able to explore that in a rehearsal room. I have found it even more profound as an adult rather than a late teen, and it's been a whirlwind of emotions exploring what the children in the play go through.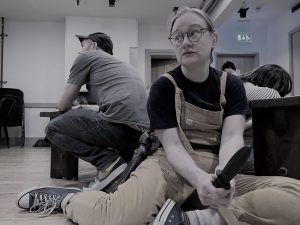 What is Dennis Potter showing us about childhood in this play?
Dennis Potter did not like children – I think that's the first thing to point out. It is well documented, and it's clear in the plot line of this play. It's set in 1943 so the adult world is in turmoil, and it's really interesting to see how that affects the children at play and their interactions with the world around them and each other. It's also clear that the interactions these children have with the adults in their lives have heavily influenced their playtime and their perception of the world around them.
Blue Remembered Hills reminds us that our childhood years are fleeting, that happy-go lucky approach to life is short and we cannot return. We often look back at childhood years with nostalgia-, but these formative years are the beginnings of us as adults. Through the children's eyes we start to see the kind of adults they will become, and how the trauma of living through a war, and the traumatic events of this day in the forest, will shape who they will become.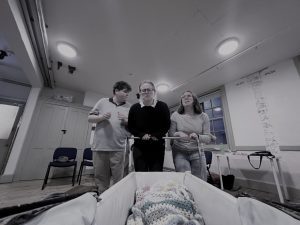 What have been the directing and staging challenges for you?
We worked really hard on the physicality of seven year-olds. We had to work on letting go of inhibitions we've gained as adults and tap into the quirks and restlessness we had forgotten, so that's been challenging but also really fun. It's been great to get a glimpse of my cast as they might once have been as children. We wanted to make sure that the actors were convincingly children without being caricature or over the top.
It's set in the Forest Of Dean so we have had a accent challenge as well. The script itself is written in that accent so any decision to move away from it would mean basically rewriting the whole play. The accent does get stuck in your head after a while and takes a while for our brains to switch back to our own accents!
I've staged the show in the round as I really wanted the audience to feel part of the world around the children, there in the forest with them. Staging in the round does come with its challenges however, as actors have to often face directions which don't always feel natural in order not to block the audience out of the action.
Lighting a stage in the round comes with its own challenges as well, so we've used a lot of cross stage lights to make sure we capture all the possible angles, as well as the LED lights SLT have to add colours that represent the forest and the summer's day.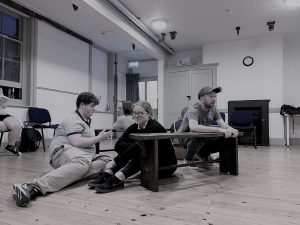 Tell us about the characters we'll meet
There's seven children, two girls and five boys. In order of appearance:
Willie – a clever carefree boy who often takes the higher moral ground
Peter – the group bully, very physical and out to prove himself
John – the honest one, protector but also a bit of a scaredy cat
Raymond – never seen without his trusty cowboy hat and pop cap gun, stutters and tries not to get in the other boys' way
Audrey – a tomboy like girl, described in the script as "owl like", often fights with the boys and antagonises
Angela – a pretty girl, often to be seen with her pram and doll Dinah, she's a girly girl and likes all the boys
Donald (or Donald Duck as the others often call him) from a unstable and often violent home, he's the lowest in the pecking order of the group and gets the brunt of their teasing and cruelty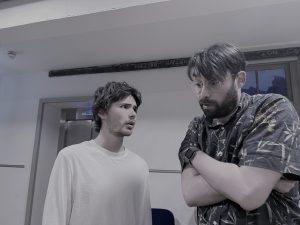 Blue Remembered Hills runs Tues 12 – Sat 16 July at the Old Fire Station
---