News Article
Habit Of Art – the Director's Preview
06 Jun 22
---
What is it about this particular Alan Bennett play that appeals to you?
It's witty, as you'd expect from a Bennett play. But also structurally it's very clever. Bennett began with the idea of an imaginary meeting, thirty years after their catastrophic falling out, between poet W H Auden and composer Benjamin Britten, once great friends and artistic collaborators. There's so much backstory that the audience needs to know – which the characters themselves know already. So to avoid a clunky tedious recapping of lives, Bennett creates a play within the play called Caliban's Day, in which, for example, Auden is interviewed for a radio programme by Humphrey Carpenter; actors argue with the author of Caliban's Day about the facts of the two men's lives and so on. So all this information is delivered to our audience as part of the action in a seamless, unobtrusive and often humorous way. Spot the theatrical in-jokes!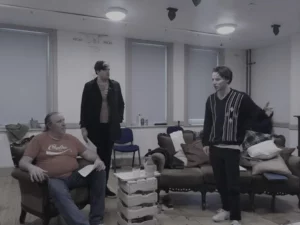 What themes does the play explore?
Bennett has great fun with the tensions and mechanics of putting on a play, sympathetic to actors, less so to writers and directors. But there are several themes. Foremost among them perhaps is: what is a life, above all what is an artistic life? Auden's view is that an artist has a compulsion to work, to create. They have the habit of art. And it is this on which they should be judged – the work is paramount. The tittle-tattle of an artist's private life, their sexual peccadillos, for example, should be of no importance or interest. But what, Bennett asks, of the rest of us, the also-rans, the bit-part players, are we to be forgotten, forever left out?
What's been challenging about directing it?
Well- clarifying the distinction between the Habit of Art and Caliban's Day. Making sense of long conversations about the nature of art, the role of biography. Hoping the jokes register. But I am blessed by an experienced and committed cast who largely achieved all that with minimal direction.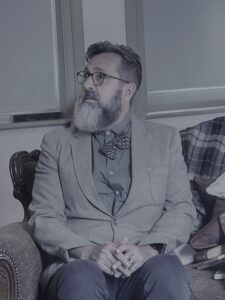 Tell us about the characters we'll meet
Several of the actors double up to play parts in both Caliban's Day (the play within the play) and The Habit of Art. There's W H Auden (Bob Callender), of course, the most dazzling and lauded poet of his generation. And Benjamin Britten (Simon Gleisner), arguably the most original British composer of the twentieth century. Then, pivotal to Caliban's Day, there's Humphrey Carpenter (Doug Dunn), who would later write acclaimed biographies of both Auden and Britten.
But let's not forget the actors in the Habit of Art, most notably Fitz, who like Auden whom he plays, is struggling to come to terms with the realisation that he may be entering the twilight years of his career. Also appearing are Tom Boxall (Tim/Stuart), Fiona Daffern (who plays May plus the stage manager amusingly named Kay – SLT regulars will get the joke!), Jason Rosenthal as Neil and Sonia Valente as Georgina.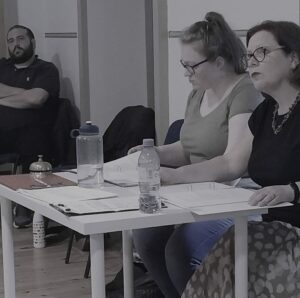 The Habit of Art runs Tues 14 – Sat 18 June at the Old Fire Station
---