News Article
Preview: You Stupid Darkness!
09 Nov 23
---
What inspired you to direct this play?
I went to see the show at its London premiere at Southwark Playhouse in January 2020.
I was totally engrossed by the narrative, the well-drawn characters, and the amazing set. At the time I wasn't in the slightest bit inclined to attempt directing it.
To be honest the idea scared the bejesus out of me, but as time went on and I was considering a play to direct this year I just couldn't get it out of my head. This is despite the fact I knew it would be really challenging for both me and the actors.
I'm delighted that my lovely cast are really rising to that challenge, and every rehearsal we find more layers. We really hope that our audiences will love the play as much as we do.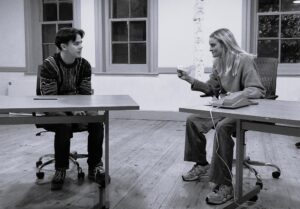 Can you tell us a bit more about the world of Brightline?
Brightline is a Samaritans-type organisation staffed by volunteers. It is there to listen to people calling in or accessing the chatline to discuss their fears and anxieties.
The key factor is that it exists in a world outside the office that is falling apart. The script occasionally but significantly references environmental deterioration and disaster.
So callers have an uncertain future which magnifies any other problems they're having in their lives and relationships. Our gallant volunteers not only have to contend with those feelings of despair in their callers' lives, but also the dark corners in their own.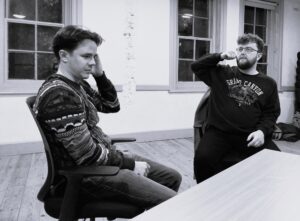 Are there any particular themes you're looking to bring out in your interpretation?
The title of the play comes from a wonderful 1965 Peanuts cartoon when the great philosopher Linus says "I have heard that it is better to light a single candle than to curse the darkness", only for always-angry Lucy to shout "You stupid darkness!" at the night sky.
For me, this play is about optimism, it's about human connection and it's about hope. Because no matter what's happening and how bad things are, without hope we have nothing.
It's why people venture into war zones and the aftermath of natural disasters to rescue others, it's why we keep trying to achieve our goals even though all seems lost.
I wanted the characters to develop a special bond that demonstrates how much they care for each other, even under the most difficult of circumstances. The play really underlines the importance of talking, listening and connection to help us combat mental health issues. It all seems very pertinent today in a post-pandemic world where our emotional wellbeing is increasingly in focus.
I have huge respect for the Samaritans and the work they do, so ahead of the Wednesday performance on 29 November, I've invited Croydon Samaritans to do a short presentation on their work along with a Q&A. It will run from 7.15pm – 7.45pm.
This will be open for Wednesday night ticket holders and for anyone who'd like to attend just for that half hour.
If you'd like to come along to the Samaritans session but don't have a ticket for the play, please reserve a free ticket here so we have an idea of numbers.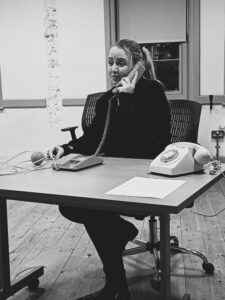 What are the challenges and opportunities of putting on a comedy set against such a bleak backdrop?
Every now and again something a character says brings us back to the catastrophes outside, and the gradual deterioration of the set reflects that.
But Steiner's naturalistic dialogue, the character quirks and the way he builds in beautifully awkward, funny misunderstandings and pauses have made it easy to bring about the comic elements in the play.
On the other hand, there are some very understated yet gut-wrenching moments, and although Steiner doesn't dwell, I do hope the audiences will be affected by these and find them thought-provoking.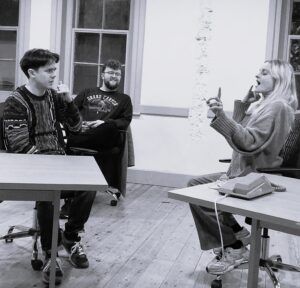 Can you sum up the play in three words?
Not really, so this is a cheat but humane, glasshalffull, doughnuts.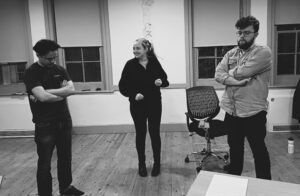 You Stupid Darkness! runs 28 November - 2 December at South London Theatre
---