News Article
Ten Men set for Edinburgh Fringe
05 Aug 22
---
If you find yourself up in Edinburgh this summer, look out for a familiar face. Matt Platt is taking SLT's own production of Ten Men to the Edinburgh Fringe in August.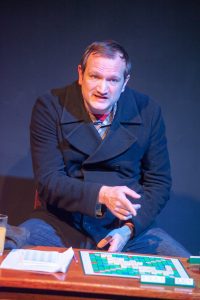 Originally performed at SLT in 2019, Ten Men, The Lives of John Bindon, is the life of the actor / thug / criminal / alleged lover of Princess Margaret. Charismatic and clever, Binden lived the lives of ten men. The play has never been performed on the Fringe before, so Matt's excited to be debuting it with this production – originally directed by Elaine Heath. "It was such a great production, so it's great to be able to give it another outing."
The play will be on at TheSpaceOnTheMile Space 1 – 22nd-27th August. It starts at 12.25 and lasts 60 minutes. Tickets available here.
---